Mobile Check Deposit is EASY with the NorthPark App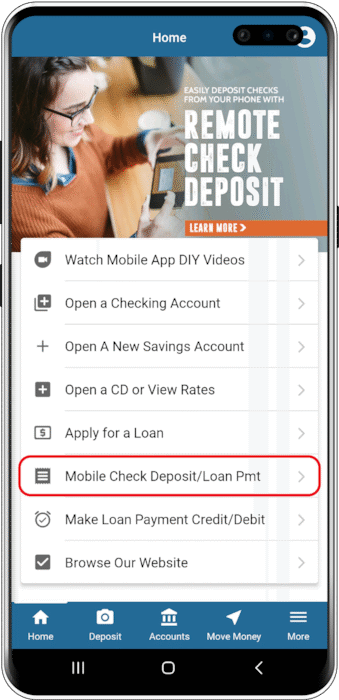 Take a picture of your check and deposit it to your account using the mobile app.
Deposit a check or money order from anywhere.
Mobile deposits can be made 24/7/365.
No trip to the ATM.
Deposits are credited the same business day if made prior to the ending processing time.

Deposit must be made by 4:30 PM M-F for same-day processing. (Excludes Holidays).

First-time registration is required within the app.

Move Money > Deposit Check > Register.

Deposits are secure.

Restrictive endorsements must include, "For Mobile Deposit Only to NPCCU", and the account number or check will be rejected.

View deposit history on the app.
Watch the video below to learn how to deposit a check from the app.
Step-by-Step Instructions:
Navigate to and tap the "Deposit" icon option on the blue ribbon at the bottom of the screen.
If it is your first time, you will be prompted to register. Please follow the instructions for registration.
Tap "New Deposit" to begin a new check deposit.
Select the account you would like your check to be deposited in and enter the amount of the check. Please make sure to add decimals to the amount.
Click continue and allow access to your camera and follow the onscreen instructions.
Click submit