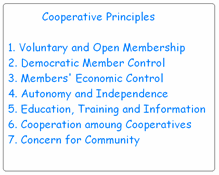 Credit unions are not-for-profit, member-owned, democratically controlled financial cooperatives - that is, they are mutual organizations operated entirely by and for their members.

Once you deposit money in a credit union, you become a member, not just a customer, because your deposit is considered your share of the ownership in the credit union.
Historically, credit unions offered only savings accounts and consumer loans. Many have expanded their services, during the past few decades in response to their members' changing - and more sophisticated - financial needs. Credit unions offer credit cards, debit cards, checking accounts, IRAs and share certificates. Credit unions also are expanding the types of loans they offer. Many offer mortgages, home equity loans, student loans and small-business loans to members.
Credit unions may look like banks in that they both offer financial products and services to consumers. But that's where the similarities end and the differences begin.
As cooperative organizations, credit unions exist solely to meet their members' financial needs, not to make a profit off of them. In fact, after expenses are paid and reserves are set aside, credit unions return their "profits" to members in the forms of lower loan rates, higher savings rates and free or low-cost services. That's why consumers typically get better rates at credit unions. For-profit financial institutions, on the other hand, exist to generate profits for a relatively small group of stockholders at the expense of their customers.
As a member-owner of a credit union, you have a voice in the overall governance of the credit union. Each credit union is run by a volunteer board of directors elected by, and from, the membership. This democratic process ensures the board remains accountable to the membership. At for-profit financial institutions, the boards of directors are accountable only to stockholders, not to customers.
While for-profit financial institutions can serve anyone in the general public, credit unions can serve only the individuals within their fields of membership. A credit union's field of membership is the association, affiliation or residential area stipulated in its charter that legally defines who may become a member.
Credit unions were created to enable people to pool their financial resources to help themselves and each other. Credit unions still operate by this People Helping People philosophy today. They exist to bring people together in a cooperative effort so these people can receive low-cost, high-quality financial services. This philosophy helps explain why since 1984, credit union members have been more satisfied with the service they receive from their credit unions than bank customers are, according to a well-known national survey of consumers' attitudes toward financial institutions.
Credit unions are not known just for their outstanding service, however. They are also known for their strong financial condition. In fact, credit unions are in the midst of one of their most successful periods ever.
Membership continues to increase. Capital ratios are at their highest levels ever. In simple terms, capital represents a credit union's net worth. Meanwhile, loan delinquency rates continue to drop. And the National Credit Union Share Insurance Fund, the federal fund that insures credit union deposits, continues to be the strongest deposit insurance fund in the nation.